Marjorie J. (GESSELMAN) BAILEY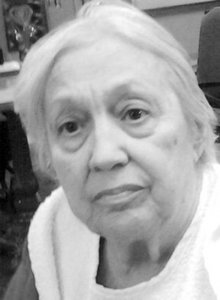 Click On Image To Enlarge
OBITUARY for MARJORIE J. BAILEY

Marjorie J. Bailey, 83, of 823 Market St., Port Royal, passed away at 6:20 p.m. Wednesday, May 20, 2015 at her home.

Born on March 11, 1932, in Strodes Mills, she was the daughter of the late Lloyd E. and Mazie (Kratzer) Gesselman.

Surviving is her husband, Eugene S. Bailey, whom she married on Nov. 25, 1947.

Mrs. Bailey is also survived by: four children, Alice L. Stanton and husband, Steven P., of Mechanicsburg, Connie L. Bailey, of Lewistown, Brian E. Bailey, of Port Royal, and Charles R. Bailey and wife, Carolyn, of Winter Springs, Fla.; nine grandchildren; six great grandchildren; and one great-great grandchild; as well as a brother, Robert E. Gesselman, of Beaver Springs.

She was also preceded in death by a brother, Clarence E. Gesselman.

Marjorie retired from working as a hairdresser's assistant at Pharoah's Hair Salon in Casselberry, Fla.

She was a former member of Aloma Baptist Church in Winter Park, Fla.

Private interment will take place at the Mount Rock Cemetery in Lewistown.

Memorials in Marjorie's name may be made to the Alzheimer's Association, 2595 Interstate Drive, Suite 100, Harrisburg, PA 17110.

Arrangements are being handled by the Rex Funeral Home in Port Royal.