Ethel Mae WHITEMAN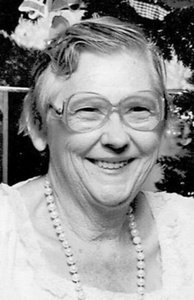 Click On Image To Enlarge
OBITUARY for ETHEL MAE SHOTZBERGER WHITEMAN

Ethel Mae Shotzberger Whiteman, 95, passed away peacefully at 12:50 a.m. Saturday, May 9, 2015, at Rolling Hills Manor, Millmont.

Born Sept. 27, 1920, in Port Royal, she was a daughter of the late Daniel D. and Annie Charlett (Zigler) Lehman.

She was the last of her immediate family being preceded in death by three brothers and four sisters.

Ethel was also preceded in death by her husband, William J. Whiteman, in 1963 and her son, Clarence "Andy" Whiteman.

She is survived by: her children, James S. Shotzberger and wife, Molly, of Lancaster, and Beatrice Stimely-Fike and husband, Kenneth, and Charles Whiteman, both of Lewistown; 11 grandchildren; 12 great-grandchildren; and one great-great-grandchild.

Ethel was a member of the Salvation Army, Sunshine Club, and Salvation Army Mother Stars.

She enjoyed walking, babysitting her grandchildren, coloring books, picking cans up, and watching westerns and soaps. Everyone called her grandma.

A funeral service will be held at 8 p.m. Wednesday, May 13, at Heller-Hoenstine Funeral Home, Woodlawn, 200 N. Main St., Lewistown with Major Herbert Hamilton officiating.

A viewing will be held from 6 to 8 p.m. Wednesday at the funeral home.

A private interment will take place in Juniata Memorial Park.

Online condolences may be offered to the family at www.hellerhoenstinefuneralhome.com.