Craig C. "Butch" KERLIN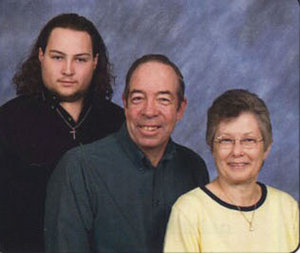 Click On Image To Enlarge
OBITUARY for CRAIG C. "BUTCH" KERLIN

Craig C. "Butch" Kerlin, 72, of Spruce Hill, passed away Sunday, Dec. 23 2018, at 3:30 PM in his home, surrounded by his family, following a selfless and courageous battle with cancer.

He was born Aug. 17, 1946, in Spruce Hill Township, Juniata County. He was the son of the late Donald H. Kerlin and Mildred B. (Titzell) Kerlin. On Aug. 21, 1966 he married his surviving wife, Judith A. (McNaight) Kerlin, with whom he shared more than 52 years of marriage.

In addition to his wife, he is survived by his son, Pastor Daniel C. Kerlin and his wife Nichole; his precious grandchildren, Makenzee L. Kerlin and Clinton C. Kerlin; one sister, Marian Burd; one sister-in-law, Vicki Kerlin; one brother-in-law, Harry Erhard; and several nieces and nephews.

He was preceded in death by one sister Barbara Erhard; one brother Harold "Pete" Kerlin; and one brother-in-law Paul Burd.

Craig was a 1963 graduate of Juniata Joint High School. After skipping the fourth grade and graduating at 16, he began working on his family farm. Craig then worked for various crews constructing houses, worked for his father building pole sheds, and eventually took over his father's business building pole sheds for Agway. Eventually he started a 25 plus year career working as a manager for Rickenbaugh Building Supply, from which he retired in 2013.

He enjoyed hunting, fishing, mowing grass, working in his wood shop, watching the cows, and spending time with his grandchildren. Craig was an active member of Matamoras United Methodist Church.

A private memorial service will be held at the convenience of the family. In lieu of flowers the family requests that donations would be made in Craig?s name to the Matamoras United Methodist Church, 105 Fifth Street, PO Box 396, Port Royal, PA 17082.

Guss Funeral Home, Inc., 20 S. Third Street, Mifflintown has care of the arrangements. Condolences may be left at www.gussfh.com.

Charitable donations may be made in Craig "Butch"'s memory to the following organization: Matamoras United Methodist Chuch 105 Fifth Street, PO Box 396, Port Royal, PA 17082.