Robert S. ISENBERG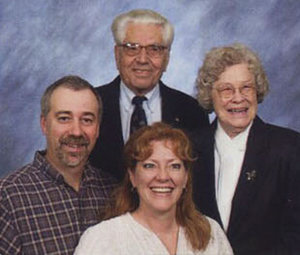 Click On Image To Enlarge
Robert S. Isenberg was the son of Blair Nevin and Ruth Naomi (Yocum) Isenberg. He married Berniece (Kunkle) Brackbill Isenberg.

Robert was born October 6, 1921 and died April 25, 2015.

OBITUARY for ROBERT S. ISENBERG

Robert S. Isenberg, 93, of Port Royal, went to be with his Lord at 9:20 a.m. Sat., April 25, 2015, at Locust Grove Retirement Village, Mifflin.

His loving wife, Berniece M. (Kunkle) Isenberg, survives.

His funeral will be held at 11 a.m. Wednesday, April 29, 2015, at Rex Funeral Home, Port Royal with Pastor Terry J. Brosius officiating.

Interment will follow at New Church Hill Cemetery, Port Royal.

A viewing will be held from 10 a.m. until the time of service at the funeral home.