Frances E. (KAUFFMAN) CRIMMEL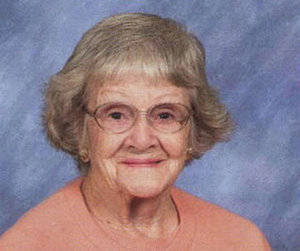 Click On Image To Enlarge
OBITUARY for FRANCES E. KAUFFMAN CRIMMEL

PORT ROYAL - Frances E. Crimmel, 91, formerly of 425 Tuscarora St., Port Royal, died at 9:30 a.m. Wednesday, Oct. 7, 2009, at Locust Grove Retirement Village, Mifflin.

Born on June 30, 1918, in Port Royal, she was a daughter of the late Oliver W. and Barbara M. (Walter) Kauffman. Her husband, George L. "Pete" Crimmel, preceded her in death on July 3, 2002.

Surviving are: a daughter, Mrs. Arden (Kay) Leach, of Port Royal; a son, Jon L. Crimmel and wife Percis, of Fayette, Maine; five grandchildren; 11 great-grandchildren; and three great-great-grandchildren.

She was a member of the Port Royal United Methodist Church, where she was a past president of the King's Daughter's Sunday school class.

She was a past president of the Ladies Auxiliary of the V.F.W. Post No. 5863, Mifflintown and was a former correspondent for the Port Royal Times.

Frances was known for playing the ukulele in the local musical groups.

Services will be held at 2 p.m. on Saturday, Oct. 10, 2009, at the Rex Funeral Home, Port Royal, with the Rev. Kenneth R. Kitzmiller officiating. Interment will be in New Church Hill Cemetery, Port Royal.

Family will receive friends from 1 p.m. until the time of service on Saturday at the funeral home.

Memorial donations may be made to the Port Royal United Methodist Church, P.O. Box 396, Port Royal, PA 17082.