Edward A. "Eddie" ZIMMERMAN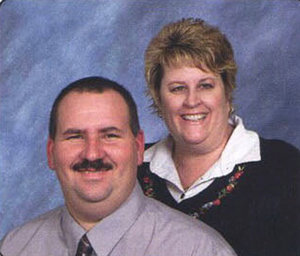 Click On Image To Enlarge
OBITUARY for EDWARD A. "EDDIE" ZIMMERMAN JR.

PORT ROYAL - Edward A. "Eddie" Zimmerman Jr., 41, of Port Royal, died Saturday, May 29, 2010 at Lewistown Hospital.

Born Nov. 30, 1968, he is the son of Edward A. and Francene (Berrier) Zimmerman Sr. of Mifflintown.

Also surviving are his wife, Mylene (McClure) Zimmerman, whom he married Aug 10, 2001, one brother, Eric E. Zimmerman and wife, Jennifer of Landisburg, his grandmother, Phyllis Stoner of Mifflin, four nieces, Hannah, Addison, and Molly Zimmerman and Jillian Mark, one nephew, Jared Berrier and numerous aunts and uncles.

He was preceded in death by one sister, Melissa Renae Zimmerman and grandparents, Earl Stoner and Chester and Sara Zimmerman.

Eddie graduated from Juniata High School in 1987 and from Penn Tech in 1989. He owned and operated Old Port Plumbing and Heating for over 16 years.

He was a member of St. Stephen's Lutheran Church, Union Lodge #324 F&AM, Tall Cedars, the Millerstown Moose, Ducks Unlimited, and Camp Spectacle and was past president and former chief of the Friendship Fire Co.

His family, friends, his beagle, Rusty, and spending time at Camp Crossing were very important to him.

His funeral will be held at 10 a.m. Wednesday, June 2 at the Port Royal Lutheran Church with Rev. Chris Mathiason officiating. Interment will be in the Old Church Hill Cemetery.

There will be a viewing from 2 to 4 p.m. and from 6 to 8 p.m. on Tuesday, June 1 at Guss Funeral Home, 20 S. Third St., Mifflintown and from 9 a.m. until the time of the services Wednesday at the church. Union Lodge No. 324 will conduct a Masonic service at 5:45 p.m. Tuesday at the funeral home.

In lieu of flowers, the family kindly asks that donations be given in loving memory of Eddie to the Friendship Fire Company, P.O. Box 274, Port Royal, PA 17082, the St. Stephen's Lutheran Church Building Fund, 8489 Licking Creek Road, Mifflintown, PA 17059 or to the Special Olympics, P.O. Box 7000, Philadelphia, PA 19149.

Condolences may be offered at www.gussfh.com.