Donald Eugene "Donnie" HOCKENBERRY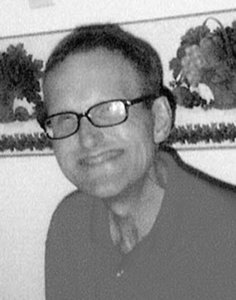 Click On Image To Enlarge
OBITUARY for DONALD E. 'DONNIE' HOCKENBERRY

Donald E. "Donnie" Hockenberry, 51, of Lewistown, died at 5:30 a.m. Saturday, Oct. 11, 2014, at his home.

Born Dec. 5, 1962, in Lewistown, he was a son of the late Bruce and Mary Grace (Crozier) Hockenberry.

Donnie is survived by: his brother, William Hockenberry, of Butler; his sister, Vickie Ditzler, of Mifflintown; his aunts, Joanne Henry, of Burnham, and Donna Crozier, of Baltimore; a niece, Cathy Shaffer; and nephews, Chalmer Bernard III and Nicholas Beward.

He was a Lutheran by faith.

Donnie touched the heart of all he met and will be sadly missed.

A funeral service will be held at 11 a.m. Tuesday, Oct. 14, 2014, at Hoenstine Funeral Home, 75 Logan St., Lewistown, with the Pastor Rodney Bower officiating.

A viewing will be held from 10 to 11 a.m. Tuesday, at the funeral home.

Interment will take place in New Church Hill Cemetery in Port Royal.

Memorial donations in Donald's name may be made to Cerebral Palsy of Central PA, 3 W. Monument Square, Lewistown, PA 17044.

Online condolences may be offered to the family at hellerhoenstinefuneralhome.com.