Lindsay HARRIS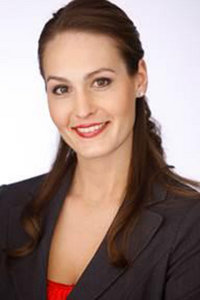 Click On Image To Enlarge
Lindsay Harris, O.D. was born and raised in Port Royal. She graduated valedictorian from Juniata High School and completed her undergraduate work at Susquehanna University (PA) where she attained a bachelor's degree in Biology with magna cum laude honors and continued her education at Pennsylvania College of Optometry.

Dr. Harris went on to complete a residency in primary care and geriatric optometry at the West Los Angeles Veteran's Administration. This added year of education provided her with a specialty in the diagnosis and management of ocular diseases. She is certified in the treatment and management of glaucoma and has diagnostic and therapeutic medical privileges in California and Pennsylvania.

Dr. Harris had provided patient care in an ophthalmological setting and has served as the study coordinator for several FDA trials. Joining the Optometrix team in 2009 has enable Dr. Harris to continue providing comprehensive eye care examinations, contact lens fittings, ocular disease treatment, as well as cataract and Lasik surgery co-management.