Helen (ERNEST) SHOEMAKER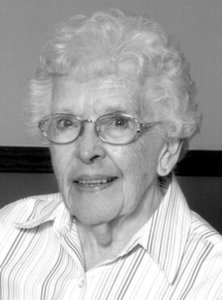 Click On Image To Enlarge
OBITUARY for HELEN E. SHOEMAKER

PORT ROYAL - Helen E. Shoemaker, 97, formerly of 413 Main St., Port Royal, died at 1:09 p.m. Wednesday, Jan. 15, 2014, at Brookline Manor, Mifflintown.

She was born on Aug. 22, 1916, in Milford Township, Juniata County. She was the daughter of the late James N. and Pearl S. (Yingling) Ernest. Her husband, Wilbur L. Shoemaker, whom she married on July 27, 1940, preceded her in death on Aug. 9, 2009. Also preceding her in death was a great-granddaughter, four brothers and one sister.

Surviving are: a daughter, Linda Kay O'Brien and husband, William (Bill), of Port Royal; two grandsons, Scott E. Bretz and wife, Linda, of Wheaton, Ill., and John L. Bretz and wife, Melissa, of Port Royal; four great-grandchildren, Sara, Jacob, Jenna and Kirsten Bretz; and one brother, Max Ernest and wife, Mary, of Mifflintown.

Helen was a member of the Port Royal Lutheran Church, and since 1968, was also a member of the Mifflin Chapter No. 260 Order of Eastern Star.

She worked at the former American Viscose Corp., Lewistown, and at various sewing factories. She was also co-owner of Shoemaker's Concessions at the Port Royal Speedway as well as The Spruce Hill Lunch.

Arrangements have been entrusted to the Rex Funeral Home, 308 Market St., Port Royal. Memorial services will be announced at a later date.

Interment at the family's discretion will be in the New Church Hill Cemetery, Port Royal.

Flowers will be provided by the family. Memorial donations may be made in Helen's name to the "Handicapped Accessible Fund" at the Port Royal Lutheran Church, P.O. Box 267, Port Royal, PA 17082.