George Cohill "Toby" CONN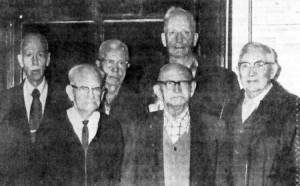 Click On Image To Enlarge
OBITUARY for GEORGE COHILL "TOBY" CONN

MIFFLINTOWN: GEORGE C. CONN, 318 Washington Ave., died Friday [26 Jan 1979] at Lewistown Hospital.

He was born Nov. 3, 1893, in Spruce Hill, a son of the late William B. and Annie Reed Conn. He married the former Mary F. Swartz, who survives.

Also surviving are a son, William G., Hershey; a daughter, Anna M. Spletzer, Mifflintown RD3; a brother, R. Guy Conn, Spruce Hill; three grandchildren and one great grandchild.

He was a retired millwright at Standard Steel. He was a member of Aldersgate Methodist Church, a 50-year member of Union Lodge 324, Free and Accepted Masons, Tall Cedars Forest 88, American Legion. He was a veteran of World War I.

Services will be held at 2 pm Monday at the Guss Funeral Home, with the Rev. James C. Bonsell officiating. Burial will be in the [Westminster] Presbyterian Cemetery. Friends will be received in the funeral home Sunday evening.