Raymond "Ray" BARKEY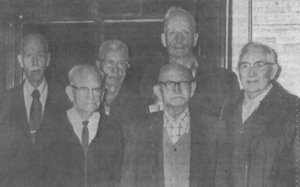 Click On Image To Enlarge
OBITUARY for RAYMOND WESLEY BARKEY

PORT ROYAL - RAYMOND W. BARKEY, 89, of Locust Grove Retirement Village, Mifflin. Formerly of 706 Fourth St., Port Royal, died at 3:30 p.m. Thursday [3 NOV 1988] at the Centre Community Hospital, State College.

Born Nov. 7, 1898 in Kissler, Perry County, he was a son of the late Harvey and Mary (Bitner) Barkey. His wife, Jennie (Jacobs) Barkey of Good Samaritan Nursing Home, Liverpool, survives.

Also surviving are: sister, Olive Reed, Des Moines. Iowa; one step-grandson, three great-step-grand-children and one great-great-step granddaughter.

He was preceded in death by one step-son, Raymond W. Jacobs.

He retired from the Pennsylvania Railroad as a trackman after 35 years of service.

He was a U. S. Army veteran of World War I having served in Europe.

He was a member of the Port Royal United Methodist Church and Port Royal Ambulance Club.

Services will the held at 2 p.m. Sunday at the Rex Funeral Home, Port Royal with the Rev. John E. Halderman officiating. Interment will be in the New Church Hill Cemetery. Port Royal.

Friends may call from 7-9 p.m. Saturday at the funeral home.

Full military graveside services will to conducted by Juniata County Veterans Council.