Clothing Store - S S Beaver - E L Beaver - Glen Kepner
Market St.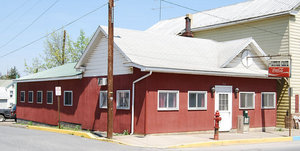 Click On Image To Enlarge
Samuel S. Beaver built this store building in 1912. His business had been located directly across Market Street in a location that would eventually house the First National Bank Building.

E. Luther Beaver purchased the store from his brother Sam and operated the clothing store in Port Royal for over twenty years. Upon Luther's retirement he sold the business to Glen Kepner, Sr. who had formerly been co-owner of the Old Port Trading Post in Old Port, Turbett Township.
| | |
| --- | --- |
| | Contributed by rkohler3 on 3/5/13 - Image Year: 1927 |
| | Contributed by rkohler3 on 3/6/13 - Image Year: 1930 |
| | Contributed by rkohler3 on 3/11/13 - Image Year: 1936 |
| | Contributed by rkohler3 on 3/13/13 - Image Year: 1949 |
| | Contributed by rkohler3 on 3/7/20 - Image Year: 1950 |
| | Contributed by rkohler3 on 3/14/13 - Image Year: 1953 |
| | Contributed by rkohler3 on 3/7/13 - Image Year: 1955 |
| | Contributed by rkohler3 on 11/17/19 - Image Year: 1965 |