Derby Races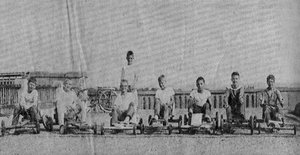 Click On Image To Enlarge
DERBY RACES: To the boys of town, derby races on the hill from the RAILROAD BRIDGE to the entrance to First "Water" Street were almost a daily occurrence during the summer months.

Somewhat later, Main Srteet would be blocked at Fourth Street and the hill next to the Presbyterian Church all the way to Tuscarora Street was used for the same purpose.

Perhaps Derby Racing was popular in the town because it hosted the Port Royal Speedway.
| | |
| --- | --- |
| | Contributed by rkohler3 on 7/19/20 - Image Year: 1965 |