Lee Ostrum KILMER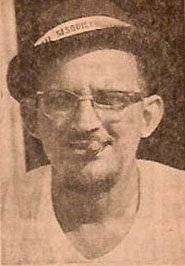 Click On Image To Enlarge
OBITUARY FOR LEE O. KILMER

Lee O. Kilmer, 85, of Mifflintown RR1 and formerly of Tuscarora, died at 11:30 p.m. Friday, November 26, 2004, at Brookline Manor, Mifflintown RR1.

He was born February 24,1919 in Turbett Township, Juniata County, a son of the late Phillip L. and Rena E. [Gingrich] Kilmer.

His wife, Loubrinton A. "Toots" [McMullen] Kilmer, whom he married September 16,1941, survives.

In addition to his wife, he is survived by a daughter, Mrs. Robert [Brenda] Allen, McAlisterville RR2; five grandchildren, five great-grandchildren and three great-great-grandchildren.

He was the last of his immediate family, having been preceded in death by a daughter, Helen L. Sieber on August, 2004; a brother, Phillip L. Kilmer Jr.; and two sisters, Margaret Leister and Evelyn Ashton.

He was a retired custodian from Tuscarora Elementary School, Port Royal. Earlier in his life, he owned and operated the former Kilmers' Restaurant in Port Royal with his wife.

He was a member of Tuscarora Church of the Brethren.

The funeral service was held Tuesday at Rex Funeral Home, Port Royal with Rev. Charles Sheaffer officiating. Interment was in New Church Hill Cemetery, Port Royal.

Memorial donations may b made to Sun Home Hospice, 2 Hudson Avenue, Lewistown, PA 17044 or to Tuscarora Church of the Brethren, c/o Karen Beasom, RR1 Box 1285, McAlisterville, PA 17049.