John Henry STEWART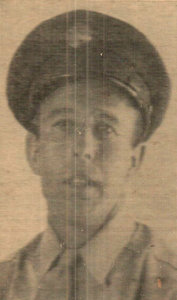 Click On Image To Enlarge
OBITUARY for JOHN H. STEWART

John H. Stewart, 70, RD1, Box 488, Port Royal, died Sunday, December 28, 1986 at Harrisburg.

He was born July 7, 1916 in McCoysville, a son of the late James M. Stewart and Sarah Jane (Toner) Stewart.

Surviving are two brothers, H. Jay Stewart and George M. Stewart, both of RD1 Port Royal.

He was a retired farmer.

He was a veteran of WWII, having served in the US Army Air Corps.

He was a member of the Matamoras United Methodist Church and the Spruce Hill Grange #772.

Services were held at the Rex Funeral Home, Port Royal, with the Rev. M. Eugene Heidler officiating. Interment was in McCullough's Mills Cemetery. Full military graveside services were conducted by the Juniata County Veterans Council.