Jasper William "Pete" PAIGE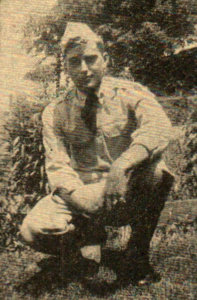 Click On Image To Enlarge
OBITUARY for JASPER WILLIAM "PETE" PAIGE

JASPER W. "PETE" PAIGE, 68, of Vineland, NJ, died Sunday morning [3/30/2003] at home after an extended illness.

He was born [29 NOV 1934] and raised in Spruce Hill Township and resided in Aston, PA for 12 years, prior to moving to Vineland, NJ, where he lived for 27 years. He was the son of the late Harry and Mary [Klinger] Paige and the husband of the late Shirley [Wert] Paige, who died in 1999.

Surviving are two daughters and sons-in-law, Christina and Jay Purcell, and Patricia and Chris Curcio, all of Vineland; two sons, Jasper W. "Dutch" Paige, Jr., Schwenksville, and Rodney R. and wife Laurie Page, Aston; six grandchildren, Craig and Crystal Purcell, Brandon and Holly Paige, and Nicole and Courtney Page Curcio; a sister, Betty Brackbill, Spruce Hill; a niece, Tim and a nephew Dennis.

He was employed as a Petroleum Marketing Manager for Ross Fogg Oil Co., in Salem NJ and he was previously employed by the Sun Oil Co.

He was a Korean War Veteran, serving in the U.S. Army 187th Airborne Division.

He attended the South Vineland United Methodist Church and was a member of a Pennsylvania Masonic Lodge.

He enjoyed hunting, fishing, NASCAR Racing, gardening and supporting the Vineland High School Marching Band.

His funeral service will be at 11:00 a.m. Wednesday in the Pancoast Funeral Home, 676 S. Main Road, Vineland, NJ with Rev. James Doran officiating. Interment will be in Greenwood Memorial Park, Millville, NJ.

Friends will be received from 9:30 a.m. until the time of the service at the funeral home.

Memorials may be sent to Hospice Care of S.J., 2848 S. Delsea Drive, Vineland, NJ 08360. To e-mail condolences please visit www.pancoastfuneralhome.com.