Harry E. "Buck" PAGE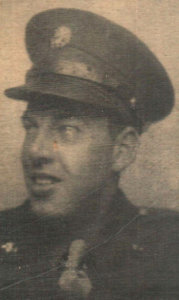 Click On Image To Enlarge
OBITUARY for HARRY E. "BUCK" PAIGE

HARRY E. "BUCK" PECK, 68, of Port Royal RD2, died at 11:16 a.m. Wednesday, April 19 [1989] at the Hershey Medical Center.

Born September 28, 1920 in Port Royal, he was a son of the late Brade E. and Laura E. [Hostler] Page. His wife, Pearl E. [Clouser] Page, whom he married June 20, 1949, survives.

He was preceded in death by two sisters, Dorothy Seigler and Margaret Walton; one half-sister, Rebecca Wentzel; and stepmother, Eva B. Page.

He was employed as a laborer for Hempt Brothers Construction Co., Camp Hill, retiring on disability.

He was a U.S. Army veteran of World War II.

He attended the New Life Assembly of God Church.

Services were held at 2:30 p.m. Sunday at the New Life Assembly of God Church, Mifflintown RD4 with the Rev. Thomas R. Rudy and the Rev. Ronald L. Auchey officiating. Interment was in the New Church Hill Cemetery, Port Royal.

The Rex Funeral Home, Port Royal, was in charge of arrangements.

Full military graveside services were conducted by the Juniata County Veterans Council.