James M. "Jim" HUBLER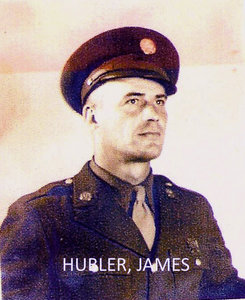 Click On Image To Enlarge
Jim Hubler was a son of Forrest and Adda (Eppenheimer) Hubler. He was born May 11, 1916 and died January 29, 1998. He was a 1934 graduate of Port Royal High School. He married Anna Lois Price.

James served in World War II.

James had the following children: William F., James M. and Betty Ann.

Along with his father and brother, he operated F. J. Hubler and Sons Well Drillers. Eventually the two brothers divided the business after the death of the father.
| | |
| --- | --- |
| | Contributed by rkohler3 on 1/8/23 - Image Year: 1934 |
| | Contributed by rkohler3 on 1/14/13 - Image Year: 1943 |
| | Contributed by rkohler3 on 12/22/19 - Image Year: 1950 |
| | Contributed by rkohler3 on 12/28/19 - Image Year: 1955 |