Cloyd Charles HOSLER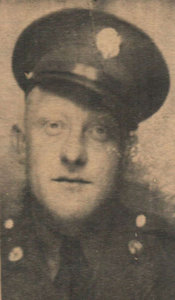 Click On Image To Enlarge
OBITUARY for CLOYD CHARLES HOSLER

Cloyd C. Hosler, 60, of Ingalls, Michigan, died November 21, [1984], at Menominee County Hospital.

He was born December 17, 1923 in Port Royal. He married the former Elizabeth Truitt on February 1, 1947, in Springfield, Ma.

He owned and operated Hosler's Mobil Service Station in Ingalls and had a cedar furniture shop there. He was a member of the Veterans of Foreign Wars and was an Air Force veteran of World War II.

Preceding him in death was his father. Holmes Hosler, his mother, Orillia McCachren; one brother, Kenneth H. Hosler; and one sister, Virginia Hosler Burd.

Surviving are his wife, two daughters (Mrs. Linda Pauch of Green Gay, Michigan and Vicki Kildee of Stephenson, Michigan); four brothers (Herbert Hosler of Fort Loudon, Clair Hosler of Mifflintown, Donald Hosler of Thompsontown and Eugene Hosler of Mexico), two sisters (Mrs. Madeline Kramer of Mifflintown and Mrs. Gladys Armstrong of Mifflintown) and five grandchildren.

Friends called at the Diem Funeral Home. Final rites were conducted there on November 24. Rev. John McArlde officiated. Burial was in Stephenson Township Cemetery, Michigan.