George "Pete" CRIMMEL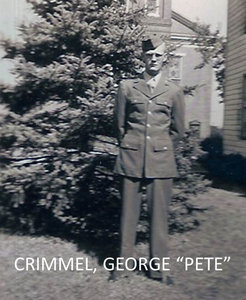 Click On Image To Enlarge
OBITUARY for GEORGE L. "PETE" CRIMMEL

PORT ROYAL - George L. "Pete" Crimmel, 83, of 425 Tuscarora Street, Port Royal, died Wednesday morning, July 3, 2002, at his home.

Born Aug. 29, 1918, in Denholm, Juniata County, he was a son of the late William Thompson and Edna V. (Turbett) Crimmel. His wife, Frances E. (Kauffman) Crimmel, whom he married April 7, 1936, survives.

Also surviving are: children, Mrs. Arden (Kay) Leach, Port Royal, and Jon L. Crimmel, Kents Hills, Maine; a sister, Mrs. Marion Beale, Port Royal; four grandchildren, a step-grandchild, nine great-grandchildren and a step-great-grandchild.

He was preceded in death by two brothers, William Ray and Arthur Turbett Crimmel, and a sister, Leah Viola Hummel.

He was a U.S. Army veteran of World War II having served in the European Theatre of operation and the Army of Occupation, also in Japan.

He had worked for FMC Corp., Lewistown, from 1943-1972. He later worked for Empire Kosher Poultry Inc., Mifflintown, from 1974-1981 and also was a part-time driver for Leidy Chevrolet , Mifflintown, from 1981-1997.

He was a member of the Port Royal United Methodist Church, Port Royal Lions Club, a life member of the V.F.W. Post #5863, Mifflintown, and a life member of the Friendship Fire Company, Port Royal.

His funeral service will be held 10:30 a.m. Saturday at Rex Funeral Home, Port Royal, with Pastor Kenneth R. Kitzmiller officiating. Interment will be in New Church Hill Cemetery, Port Royal.

Friends may call 7-9 p.m. Friday at the funeral home.

Memorial contributions may be made to: Port Royal United Methodist Church, P.O. Box 396, Port Royal, PA 17082-0396.