Robert Elliott CRAWFORD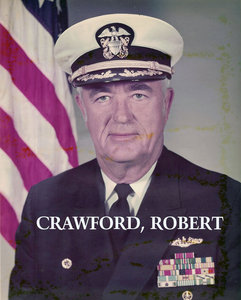 Click On Image To Enlarge
OBITUARY for ROBERT ELLIOTT CRAWFORD

PORT ROYAL: Capt. Robert E. Crawford, U. S. Navy (retired), of Port Royal, 80, died at 12:40 p.m. Saturday, Dec. 20, 2003 at Mount Nittany Medical Center, State College.

Born March 11, 1923 in Norfolk, VA, he was the son of the late Rear Admiral John G. and Sarah M. (Groninger) Crawford. His wife, Jeanne (Perkins) Crawford, Port Royal, whom he married on March 8, 1947, survives.

Captain Crawford was the last of his immediate family, having been preceded in death by one sister, Margaret Manbeck.

He attended Dartmouth College and graduated from the U.S. Naval Academy in Annapolis, MD. He was a veteran of WWII and the Korean and Vietnam Wars. He retired from the U.S. Navy in Jan., 1975 and reestablished residence in Port Royal.

During his active naval service, Captain Crawford commanded submarine CUSK (SS348) and GROWLER (SSG577), Submarine Division 121, repair ship AJAX (AR6) and Service Squadron Seven. His assignments ashore included Instructor, NROTC Unit, Pennsylvania State University; Guided Missile Division, Bureau of Aeronautics; two tours in the Office of the Chief of Naval Operations; and lastly, Commanding Officer, Naval Inactive Ship Maintenance Facility, Bremerton, WA.

He attended the Port Royal Presbyterian Church, was a life member of the U.S. Naval Academy Alumni Association, the Retired Officers Association and the Veterans of Foreign Wars of the United States.

Memorial services will be held at 10:30 a.m. Saturday at the Faith Bible Church, 4th St. Ext., Port Royal. Interment will be at the convenience of the family. There will be no viewing.

Memorial donations may be made to Faith Bible Church, P.O. Box 368, Port Royal, PA 17082 and/or Port Royal Presbyterian Church, P.O. Box 267, Port Royal, PA 17082.

Rex Funeral Home, Port Royal, is in charge of arrangements.