John Graybill CRAWFORD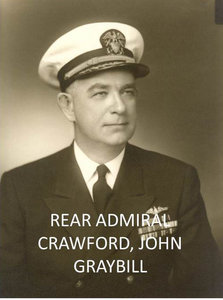 Click On Image To Enlarge
Admiral John G. Crawford U.S.N.

Admiral Crawford was born Feb. 22, 1897 in Mifflintown, a son of the late Dr. and Mrs. Darwin Margaret Crawford. He died August 13, 1974.

He was educated in the schools of Mifflintown, Franklin and Marshall College and was graduated from U. S. Naval Academy, Annapolis, Md. in 1918.

He served 16 years in Submarine duty both ashore and afloat including the years of World War I.

He was in command of U. S. S. Miami, serving in Third and Fifth Fleets, in the Western Pacific, during World War II.

He retired June 1, 1949 and moved to Port Royal with his wife the former Sara M. Groningar, whom he married June 26, 1919.

The Crawfords had two children: Mrs. Max N. Manbeck (Margret) and Robert Elliot Crawford, Lt. U. S. Navy.