William "Bill" BEERS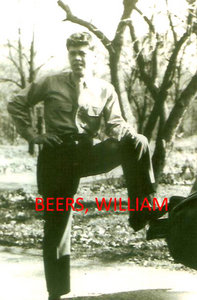 Click On Image To Enlarge
OBITUARY for WILLIAM EDGAR BEERS JR

WILLIAM E. "BILL" BEERS, JR. 76 of Orchard Hills Apartments, HC67, Mifflin and formerly of Market St., Port Royal, died Sunday, December 6, 1998 at his home.

Born April 14, 1922 in Academia, Juniata County, he was a son of the late William E. Beers Sr. and Helen G. (Brackbill) Beers.

His wife, Helen (Graham) Beers, whom he married October 6, 1951 survives.

Also surviving are a brother, Silas S. Beers of Forked River, NJ and a sister, Beatrice A. Beers of Academia, PA.

He was a 1940 graduate of Juniata Joint High School, Mifflintown.

Mr. Beers was a Veteran of WWII, having served in the US Army in the European Theater of Operation where he was in the Battle of the Bugle with the 3rd Division B17 Tank Destroyer Battalion.

He had owned and operated the former Beers Mills, Academia, PA.

Mr. Beers was a member of the Port Royal Presbyterian Church.

Services were held Wednesday, December 9, at Rex Funeral Home, Port Royal, with the Rev. Richard E. Wright officiating, and Rev. Dr. Michael H. Browder assisting. Interment followed in the New Church Hill Cemetery, Port Royal.

Military graveside services were conducted by the Juniata County Veterans Council.

Memorial donations may be made to Hospice - The Bridge, 1126 W. 4th St., Lewistown, PA 17044.