Mary I. (SNYDER) PORTZLINE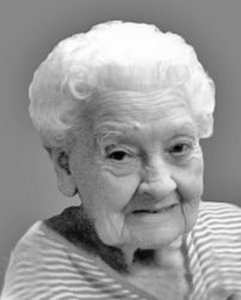 Click On Image To Enlarge
OBITUARY for MARY I. SNYDER PORTZLINE

MIFFLIN - Mary I. Portzline, 97, of Locust Grove Retirement Village, Mifflin, and formerly of Mifflintown, died at 5:05 p.m. Sunday, April 15, 2012, at the Village.

Born April 16, 1914, in Turbett Township, Juniata County, she was a daughter of the late Howard F. and Sara V. (Hockenberrry) Snyder. Her husband, Robert J. Portzline, preceded her in death on June 25, 1980.

She is survived by: one daughter, M. Sue Kauffman and her husband, Harold "Kurtz," of Mifflintown; one brother, Penn H. Snyder, of Mifflintown; one sister, Betty Fultz, of Bridges at Brookline, Mifflintown; and two nieces, Patty Worrall, of Mifflintown, and Mary Ann Waite, of Mifflin. She also leaves behind 16 grandchildren, many great-grandchildren and several great-great-grandchildren.

Four sons, Thomas J. Filler, Robert H. Portzline, William H. "Bill" Portzline and Charles A. Filler, three brothers, Harry Snyder, John Snyder and Robert Snyder, and one sister, Dorothy "Dot" Dunn, preceded her in death.

Mrs. Portzline was a lifetime member of the Crawford-Brubaker VFW Post No. 5863 Ladies Auxiliary, Mifflintown.
In earlier life, she was employed by the Pennsylvania Railroad, Enola, before retiring from Precision Ware, Thompsontown.

Mary enjoyed tending her flowers, but she held a passion for NASCAR racing and Philadelphia Phillies baseball.

In accordance with Mrs. Portzline's request, there will be no services.

For those who wish, memorial donations in Mrs. Portzline's memory may be made to the Hospice: The Bridge, 305 Fourth St., Lewistown, PA 17044.

Arrangements have been entrusted to Brown Funeral Homes Inc., 100 Bridge St., Mifflintown.

For online tributes and condolences, please visit www.brownfuneralhomesinc.com.