Richard O. SIEBER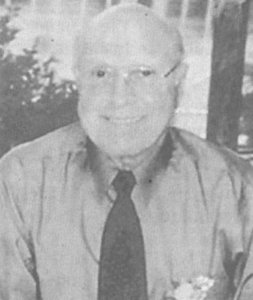 Click On Image To Enlarge
OBITUARY for RICHARD O. SIEBER

PORT ROYAL - Richard O. Sieber, of Market Street, Port Royal, died on Labor Day, Sept. 3, 2012, at Lewistown Hospital, at the age of 81.

Mr. Sieber was born Nov. 2, 1930, in Mexico, Pa., the son of the late Lee O. and Ida (Boyer) Sieber.

He is survived by his wife of 59 years, Helen (Crimmel) Sieber, of Port Royal.

Also surviving are: two sons, John R. Sieber, Ph.D. and wife, Linda, of Gaithersburg, Md., and Matthew S. Sieber and wife, Susan, of Mifflin; one daughter, Karen B. Stroup and husband, Rodger, of York Springs; six grandchildren; and one great-grandchild.

He was preceded in death by a brother, Col. Paul E. Sieber, M.D.

He was a 1948 graduate of Juniata Joint High School, Mifflintown. He earned a bachelor's degree in accounting from Juniata College in 1953. After college, Dick served in the U.S. Army as a staff sergeant and was a Korean War veteran, serving in the 77th Special Forces, headquartered at Fort Bragg, N.C. He was awarded the National Defense Service Medal for his service.

Mr. Sieber had a variety of jobs, including working at a telephone company, as a carpenter and as an elementary school teacher. His career as an accountant included working for the school system of the state of Pennsylvania and for a number of local businesses and accounting firms.

He served the community as the Walker Township auditor and later as a member of the Juniata County School Board.

A funeral service will be held at 11 a.m. Friday, Sept. 7, 2012, at the Rex Funeral Home, Port Royal, with the Rev. Charles l. Hershberger, of the Port Royal Parish of the Evangelical Lutheran Church, officiating.

Viewing will be held from 10 a.m. until the time of the service Friday, at the funeral home.

Interment will be in Old Church Hill Cemetery with immediate family only.

All flowers will be provided by the family. In lieu of flowers, donations may be made to the Accessibility Fund of the Port Royal Evangelical Lutheran Church, P.O. Box 267, Port Royal, PA 17082.