Louise Kathryn (TURBETT) TAYLOR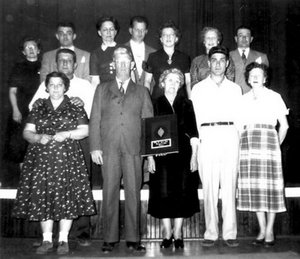 Click On Image To Enlarge
OBITUARY for LOUISE K. TURBETT TAYLOR

LOUISE K. TAYLOR, 66, of 104 N. Third St., Mifflintown, died Wednesday, May 19 [1982] at Polyclinic Medical Center, Harrisburg.

Born November 13, 1915, in Turbett Township, she was the daughter of the late Brady and Erie M. Mickey Turbett. Her widower, Warren B. Taylor survives.

Also surviving are one son and two daughters: Warren W. Taylor of Mifflintown RD1, Ronnie Wrightstone of Indian Harbor Beach, FL and Wanda Deitz of Weikert, Pa., three brothers and four sisters: Brady Turbett of Port Royal, J. Edwin Turbett of Newark, Del., Donald Turbett of Lewistown, Mrs. John (Elgarda) Bowen of Lewistown, Mrs. William (Violet) Whitesel of Mifflintown, Mrs. Paul (Marie) Brouse of Port Royal and Mrs. Robert (Charlotte) Lytle of Hollywood, Fla.; four grandchildren and one great-grandchild.

Mrs. Taylor was a member of the Aldersgate United Methodist Church and the Fidelity Sunday School Class.

Services were held Saturday May 22 at the Brown Funeral Home, Mifflintown, with the Rev. James C. Bonsell officiating. Interment was in the Presbyterian Cemetery, Mifflintown.