Warren B. "Toby" TAYLOR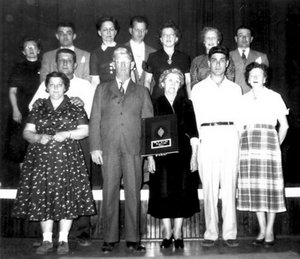 Click On Image To Enlarge
OBITUARY for WARREN B. "TOBE" TAYLOR

MIFFLINTOWN - WARREN B. "TOBE" TAYLOR, 84, of 104 N. Third St., Mifflintown, died at 4:32 p.m. Thursday, April 22, 1999, at Lewistown Hospital.

Born Aug. 25, 1914, in Spruce Hill Township, Juniata County, he was the son of the late Norman and Edna (Brackbill) Taylor.

He was preceded in death by his first wife, Louise K. (Turbett) Taylor on May 19, 1982.

He is survived by his second wife, Zola M. (Clayton) Taylor, whom he married Dec. 15, 1985.

Also surviving are: a son, Warren W. "Butch" Taylor, Mifflintown RR3; step children Calvin Eaton, Elliotsburg, Audrey Yorks, Port Royal RR2, Carol Jane Arnold, Harrisburg; sisters, Miriam Wert, Port Royal, Eleanor Boyer, Lakehurst, N.J.; three grandchildren, six step-grandchildren, three great-grandchildren, nine step great-grandchildren.

He was preceded in death by two daughters, Wanda Taylor and Bonnie Wrightsone, three brothers Wilbur, Harold and Bernal Taylor and a grandson, Stephen Schrecengast.

He retired from the Forge Shop of Standard Steel, Burnham, in 1979 after 37 years of service.

He was a member of the Aldersgate United Methodist Church, Mifflintown. He enjoyed hunting, fishing and golfing.

Funeral services will be held at 2 p.m. Monday at the Borwn Funeral Home, 100 Bridge St., Mifflintown, with the Rev. Douglas Compton officiating,

Interment will be in the Westminster Presbyterian Cemetery, Mifflintown.

A viewing will be held from 7-9 p.m. Sunday at the funeral home.