Dorothy (HAINES) TAYLOR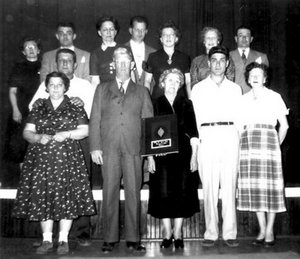 Click On Image To Enlarge
OBITUARY for DOROTHY LEONA HAINES TAYLOR

Mrs. DOROTHY L. TAYLOR, 84, of RR1, Box 364, Port Royal, died Thursday, February 4, 1999 at her home.

Born March 27, 1914 in Tipton, Huntingdon County, she was a daughter of the late William Blair Haines and Celeste Henrietta (Goodman) Haines.

Her husband Harold L. "Fat" Taylor, died March 9, 1982.

Surviving are three sons, James H. Taylor of Canton, Norman B. Taylor of Lewistown, Robert F. Taylor of Spanaway, Washington; four daughters: Edna C. Harper of Wichita Falls, Texas, Mrs. Robert (Louella) Varner of Mifflintown, Mrs. Leo (Leona) Shellenberger of Port Royal, and Mrs. Tracy (Mary) Sander of Carlisle; a brother, James H. Haines of Perry Village, New Bloomfield; 23 grandchildren and 43 great grandchildren.

Preceding her in death were four sisters, three brothers and one great granddaughter.

She was a 1932 graduate of Huntingdon High School.

For many years she served on the election board for Spruce Hill Township.

Mrs. Taylor was a member of Matamoras United Methodist Church. The Gray Ladies of American Red Cross, Spruce Hill Grange, Romona Grange and an honorary member of the junior grange and a charter member of Juniata County Meals on Wheels.

Services were held Monday, February 8, at the Matamoras United Methodist Church, RR1, Port Royal with the Rev. Frank J. Swartz officiating. Interment followed in the Old Church Hill Cemetery, Port Royal.

Rex Funeral Home, Port Royal, was in charge of arrangements.

Memorials may be made to the Matamoras United Methodist Church, PO Box 396, Port Royal, PA 17082 or to Hospice, The Bridge, 1126 W. 4th St., Lewistown, PA 17044.