Creamery - Tuscarora Valley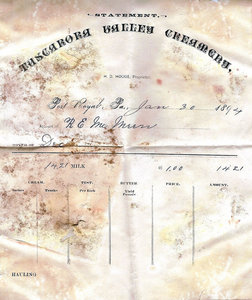 Click On Image To Enlarge
The Tuscarora Valley Creamery was located along the Tuscarora Creek between Old Port and the Juniata River. This creamery burned in 1898.

The following is an account from the Juniata Star:

"On Monday evening of this week, one of the best equipped creamery plants in Central Pennsylvania was entirely destroyed by fire at Port Royal. It was first discovered at 9 o'clock ... In less than an hour only the dying embers and a piece of machinery projecting from the ruins here and there remained to mark the place where stood one of Port Royal's busiest little industries. ... The property was owned by a company of stockholders from that community. The loss was estimated at $6,000, insurance at $3,000."