607 Main Street
Main St.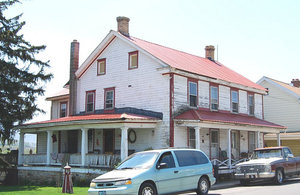 Click On Image To Enlarge
This is a double house and it sits on the south side of the 600 block of Main Street.

During the early 1950s the Glen Kepner (left side) and Bernal Taylor (right side) families lived in this house. After Glen and Bernal purchased the Old Port Store, the Taylor family moved into the house beside the store.

This building was destroyed by fire on October 22, 2010.
| | |
| --- | --- |
| | Contributed by rkohler3 on 5/20/14 - Image Year: 2007 |
| | Contributed by rkohler3 on 11/11/09 - Image Year: 1889 |
| | Contributed by rkohler3 on 11/11/09 - Image Year: 1904 |
| | Contributed by rkohler3 on 11/11/09 - Image Year: 1911 |
| | Contributed by rkohler3 on 11/11/09 - Image Year: 1928 |