Emma A. (RITZMAN) PAGE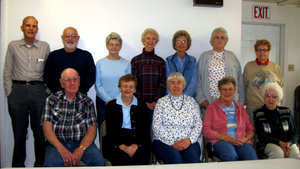 Click On Image To Enlarge
OBITUARY for EMMA A. RITZMAN PAGE

PORT ROYAL - Emma A. Page, 76, of Mountain Road, Port Royal, died at 12:55 p.m. Friday, Dec. 7, 2012, at Brookline Manor, Mifflintown.

Born May 10, 1936, in Turbett Township, Juniata County. She was a daughter of the late R. W. and Eva R. (Kramer) Ritzman. Her husband, Harold L. "Baldy" Page, whom she married on June 4, 1955, survives.

Also surviving are: son, William L. Page and companion, Tracey L. Henry, of Mifflin; daughter, Mona P. Houtz and her husband, Randy, of Mifflintown; six grandchildren, Zeb Page, Jenna Graff, Danielle Reighter, Nathan Houtz, Jason Houtz and Margo Houtz; and four great-grandchildren.

She was preceded in death by two infant sons, Harold L. Page Jr. and John Page, and a sister, Leona Youtzy.

She was a 1955 graduate of Tuscarora High School, Port Royal.

Emma was a seamstress for the former Rae-Sel Corporation, Port Royal, had worked for the former Coffee Cup Restaurant, Mifflintown, and the former Spruce Hill Lunch. She last worked and retired from Empire Kosher Poultry, Inc., Mifflintown.

She was a member of the Port Royal Presbyterian Church.

Mrs. Page enjoyed mowing, gardening and listening to country music.

A funeral service will be held at 10 a.m. Tuesday, Dec. 11, 2012, at Rex Funeral Home, Port Royal, with the Revs. Dr. Howard Houtz and Crystal Lyde officiating. Interment will be held in Old Church Hill Cemetery, Port Royal.

A viewing will be held from 7 to 9 p.m. Monday, Dec. 10, 2012, at the funeral home.

Memorial donations may be made to the Old Church Hill Cemetery Association, PO Box 54, Port Royal, PA 17082.

Arrangements are under the care of Rex Funeral Home, Port Royal.