512 Main Street
Main St.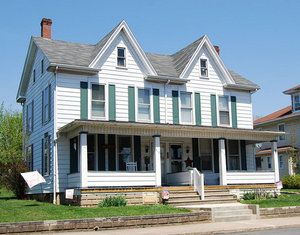 Click On Image To Enlarge
This is a large double house and sits next to another large double house. They may have been built by the same builder.

This house was built before 1889 because it appears on the Sanborn Fire Insurance Map of that year.

During part of the 1950s, this was the residence of Warren B. and Jane (Towsey) Kohler.
| | |
| --- | --- |
| | Contributed by rkohler3 on 9/20/09 - Image Year: 1900 |
| | Contributed by rkohler3 on 9/20/09 - Image Year: 1965 |
| | Contributed by rkohler3 on 5/21/14 - Image Year: 2007 |
| | Contributed by rkohler3 on 11/19/09 - Image Year: 1889 |
| | Contributed by rkohler3 on 11/19/09 - Image Year: 1904 |
| | Contributed by rkohler3 on 11/19/09 - Image Year: 1911 |
| | Contributed by rkohler3 on 11/19/09 - Image Year: 1928 |