Ellis Banks "Piney" BAILOR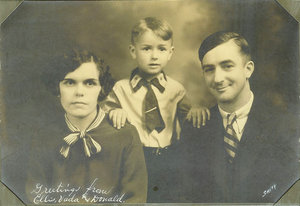 Click On Image To Enlarge
Ellis was born October 23rd, 1899 in Newport. He was the son of Charles Henry Bailor and Leona Madera Stahl. He attended Greenwood Normal School in Millerstown, PA.

From 1926 to 1928, he and his brother owned and operated the Millerstown Garage in Millerstown.

In 1927, Ellis married Vada Lee Goodman. In 1928, their only child Donald was born. From 1929 to 1933 he worked in Charlie Schwartz's store. (Eventually this store will be operated by the Foltz Family). He also worked for many years as an accountant at Joe Frankhouse's Garage.

Ellis was a superb gardener and nearly his entire backyard was filled with beautiful flowers. He also loved baseball and listened to his Phillies faithfully while sitting on his side porch smoking his pipe. Ellis passed away in September 1962.