Edna E. (MCCORMICK) WHARTON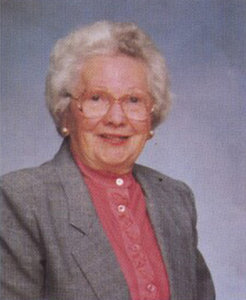 Click On Image To Enlarge
OBITUARY for EDNA MCCORMICK CISNEY WHARTON

PORT ROYAL - Edna Cisney Wharton, 90, of Brookline Retirement Village, RR1 Mifflintown, formerly of Port Royal, died at 10:30 p.m. Sunday April 28, 2002, at the retirement home.

Born March 10, 1912, in Mifflin County she was the daughter of the late Castor Portor and Viola (Bauchman) McCormick. Her first husband, Kenneth D. Cisney, preceded her in death on July 25, 1967. Her second husband, Robert W. Wharton, preceded her in death on Dec. 29, 1989.

Surviving are: one daughter, Mrs. John (Leota) Clay, Brooksville, FL; one son, Kenneth C. Cisney, Port Royal; one sister, Helen Cline, Auburn, OH; six grandchildren and 11 great-grandchildren.

She was preceded in death by three sisters, Pearl Taylor, Ethel McCormick, and Ruth Trefs.

She was a graduate of the Lewistown High School.

She was a retired seamstress having worked for the Arrow Shirt Factory, Lewistown, with 26 years of service.

She was a member of the Port Royal Lutheran Church.

Her funeral service will be held at 11 a.m. Thursday at the Rex Funeral Home, Port Royal, with the Rev. Marton J. Roberson officiating. Interment will be in the Old Church Hill Cemetery, Port Royal.

Friends may call 10 a.m. until the time of the service at the funeral home. There will be no evening viewing.