Marian Ruth (HOUTZ) TOWSEY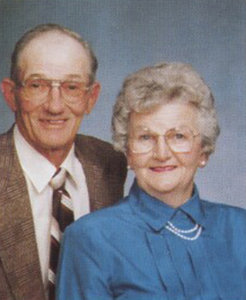 Click On Image To Enlarge
Marian Ruth Houtz was the daughter of James Melvin and Salina "Lina" Jane (Guss) Houtz. She married Paul David Towsey.

OBITUARY for MARIAN R. HOUTZ TOWSEY

PORT ROYAL - Marian R. Towsey, 86, of Port Royal, died Monday, Sept. 12, 2011, at Lewistown Hospital.

Born June 10, 1925, she is the daughter of the late James Melvin and Salina Jane (Guss) Houtz. Her husband of 65 years, Paul D. Towsey, whom she married Oct. 24, 1945, survives.

Also surviving are one son, Fred Towsey and wife, Linda; one daughter, Carol Milliken and husband, Marlin; and one sister, Helen Crozier, all of the Mifflintown area; five grandchildren, and six great-grandchildren.

She was preceded in death by two sisters and one brother: Bernice Copenhaver, Pauline Hart, and Wayne G. Houtz.

Marian had worked at the Ben Franklin store, but was mainly happy being a homemaker. She enjoyed gardening, cooking, cleaning and taking good care of her house and her family. Everyone looked forward to eating a piece of her pies. She was a member of the Port Royal Lutheran Church and Turbett Grange and was a past Turbett Township secretary and county auditor.

Her funeral service will be held at 11 a.m. Wednesday, Sept. 14, at Guss Funeral Home, 20 S. Third St., Mifflintown, with the Rev. Charles Hershberger officiating. Interment will be in St. Stephen's Lutheran Cemetery, Licking Creek Valley.

A viewing will be held today from 7 to 9 p.m. at the funeral home.

Contributions may be made in loving memory of Marian to the Port Royal Lutheran Church, P.O. Box 267, Port Royal, PA 17082.

Guss Funeral Home Inc. has care of the arrangements and condolences may be offered at www.gussfh.com.