Kenneth "Kenny" NEFF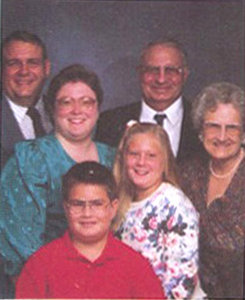 Click On Image To Enlarge
OBITUARY for KENNETH E. NEFF

PORT ROYAL - Kenneth E. Neff, 46, of Port Royal RR2, died at 6:17 a.m. Wednesday, Aug. 30, 2000, in the emergency room of Lewistown Hospital of natural causes.

Born Oct. 18, 1953, in Lewistown, he was a son of the late Earl C. and Kathryn A. (Coon) Neff. His wife, Lisa (Aughey) Neff of Port Royal RR2, whom he married March 6, 1982, survives.

Also surviving are: children, Michelle R. Neff and Justin C. Neff, both at home.

He was a 1972 graduate of Juniata High School, Mifflintown and a 1976 graduate of Elizabethtown College, Elizabethtown.

He was currently serving as the assessor for Juniata County. He had been a former science teacher at Carson Long Institute, New Bloomfield and worked selling tickets at the Port Royal Speedway and the Juniata County Fair. He was also a bonded locksmith.

He was an Eagle Scout and a member of the Port Royal Lutheran Church, the Turbett Grange 781 and served on the Juniata County Republican committee.

Services will be held at 11 a.m. Saturday at the Rex Funeral Home, Port Royal, with the Rev. Marton J. Roberson officiating. Interment will be in New Church Hill Cemetery, Port Royal.

Friends may call 7-9 p.m. Friday at the funeral home.

Memorial contributions may be made to the Port Royal Lutheran Church, PO Box 267, Port Royal, PA 17082-0267 or to the American Heart Association, 501 Howard Ave., Suite 101, Altoona, PA 16601.