413 Main Street
Main St.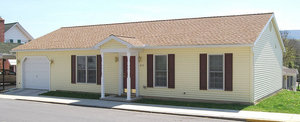 Click On Image To Enlarge
This is a relatively new house that sits at the southeast intersection of Main and Fifth Streets.

This house was built after 1938 because it doesn't appear on the Sanborn Fire Insurance Map of that date. It was built by Wilbur and Helen (Ernest) Shoemaker.
| | |
| --- | --- |
| | Contributed by rkohler3 on 5/21/14 - Image Year: 2007 |
| | Contributed by rkohler3 on 11/21/09 - Image Year: 1889 |
| | Contributed by rkohler3 on 11/21/09 - Image Year: 1904 |
| | Contributed by rkohler3 on 11/21/09 - Image Year: 1911 |
| | Contributed by rkohler3 on 11/21/09 - Image Year: 1928 |