403 Main Street
Main St.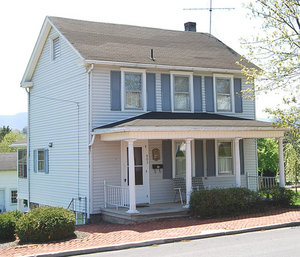 Click On Image To Enlarge
This house sits on the southwest corner of Main and Fourth Streets.

During the 1950s this house was the home of the Paul Brouse family. Marie Brouse had a beauty shop in the back. In 2009 Richard Peters owned the property, his wife Arlene (Page) Peters passed away in 2004 and Richard in 2012.

This house was built before 1889 because if appears on the Sanborn Fire Insurance Map of that date.
| | |
| --- | --- |
| | Contributed by ray on 5/21/14 - Image Year: 2007 |
| | Contributed by rkohler3 on 3/14/13 - Image Year: 1955 |
| | Contributed by rkohler3 on 11/21/09 - Image Year: 1889 |
| | Contributed by rkohler3 on 11/21/09 - Image Year: 1904 |
| | Contributed by rkohler3 on 11/21/09 - Image Year: 1911 |
| | Contributed by rkohler3 on 11/21/09 - Image Year: 1928 |