James Franklin "Frank" BEALE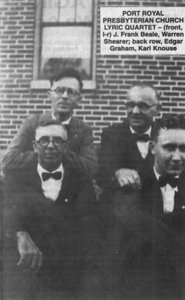 Click On Image To Enlarge
OBITUARY FOR JAMES FRANKLIN BEALE

TRIBUTE TO J. FRANK BEALE

The whole community was stunned by the home call on Sept. 1st, 1943 of James Franklin Beale, a beloved resident of Port Royal and Fort Bigham, Pa. He was born at Bealetown [now Honey Grove], Juniata Co., on October 6th 1875 in the old stone house built by his great grandfather David Beale in 1814. He died at Fort Bigham on the night of September 1st, 1943, aged 67 years, 10 months and 25 days.

He was the son of James Milliken Beale and Matilda Randolph Beale and spent his boyhood and early manhood on the farm, taken up by his great grandfather. On February 4th 1904, he was united in marriage with Grace Almeda Reed, and a few months later moved to Miles City, Montana where he spent several years as a carpenter. Returning to Penna. he resided in Port Royal and was employed as a carpenter by the Pennsylvania R. R. Company.

Early in life he was united with the Presbyterian Church at McCulloch's Mills. He was active in the music of the church and sang in the choir of which his father was leader for many years. After coming to Port Royal he was elected leader of the choir of the Presbyterian Church and held that position until his death. During that time he was also a member of the Lyric Male Quartette. He was an elder of the Port Royal Presbyterian Church and active, not only in the work of the church but in the civic life of the community.

He was President of the Beale Reunion Association and took great interest in these family gatherings.

On Sunday Aug. 39th he attended not only his own Sabbath School and church service where he led the choir, but also the Homecoming at McCulloch's Mills where his voice was again heard in the choir where he had sung as a boy, and in the evening heard Bishop Culbertson preach in the Methodist Church.

Funeral services were held at his late home at Port Royal, at 10:30 a.m., Monday, September 6th conducted by his pastor, the Rev. James L. Robison.

He is survived by his wife; one son, Private Frank Reed Beale, two daughters, Kathryn, wife of Edgar T. Graham; and Dorothy, wife of Major J. P. O'Brien; four grandchildren, Helen Beale and Donald Kelly Graham; Margaret Ann and Kathleen Beale O"Brien; and three sisters, Millie (Mrs. S. W. McClure); June (Mrs. S. M. Milliken) and Miss Lila M. Beale.

He will be greatly missed, not only in his immediate family but by a host of cousins with whom he was a general favorite, and by his many friends and neighbors in the community in which he lived. His happy disposition and cheerful greeting made him welcome wherever he went.