Philip Nathaniel "Phil" CARPENTER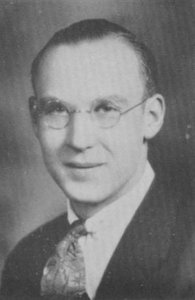 Click On Image To Enlarge
Philip Nathaniel Carpenter was born in Port Royal, PA, March 6, 1908 and died February 23, 1998. He graduated from Port Royal High School and received a Bachelor of Science Degree from Grove City College in 1930. (His father Frederick owned a mens' clothing store and later a tailor shop in Port Royal.)

Philip was listed in "Who's Who in America" volumes after 1950. He obtained degrees in Mathematics and Physics while attending Grove City College in PA, the University of Washington, the University of Pittsburgh and Penn State University.

He was a teacher, head of the Math Department and Principal at the Port Royal High School. (Listed as Principal Sept. 3, 1935)

After leaving Port Royal, he carried on a private practice as a Registered Surveyer, 1942-75. He was a member of the Grove City School Board for 12 years and served as the first president of the Joint Board.

He married Ethel Edith Orr on August 15th, 1931 in Ivy Chapel, Grove City College, Grove City, Mercer Co., PA. They had two daughters Shirley Elva and Patricia Joyce Carpenter.

Philip was a member and Past Master of Grove City Lodge #603, F.&A.M., the New Castle Consistory, and Zem Zem Shrine in Erie, and the Royal Order of Scotland. He served as a Sunday School teacher and Elder in East Main Presbyterian Church, Grove City, where he and Ethel were members for many years.