Flora "Flo" CROZIER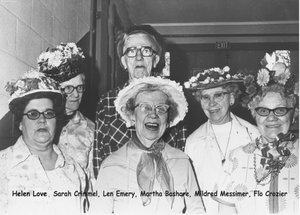 Click On Image To Enlarge
OBITUARY for FLORA H. EMERY CROZIER

FLORA H. EMERY CROZIER, 81. 101 Main St., Port Royal, died Thursday, December 10, 1987 at the Locust Grove Retirement Village, HCR67, Mifflin.

She was born July 3, 1906 in Mifflin, a daughter of the late John Emery and Sally (Shirk) Emery. Her husband, George H. Crozier died Dec. 27, 1971.

She is survived by two daughters, Doris J. Wetzler of Port Royal, and Shirley J. Perry, 101 Main St., Port Royal; a son, George G. Crozier of Shiremanstown; a brother, Leonard (Red) Emery, William Penn Nursing Center, Lewistown; three grandchildren and seven great grandchildren.

She was preceded in death by two sisters, Maude Henderson and Sarah Crimmel.

She was a member of the Port Royal United Methodist Church and the King's Daughters Sunday School Class of the church and the Port Royal Senior Citizens Center.

Services were held at Rex Funeral Home, Port Royal, with the Rev. Sharonn D. Halderman officiating. Interment was in Old Church Hill Cemetery, Port Royal.