Greenhouse - Bashore - Summers - McClure
Milford St.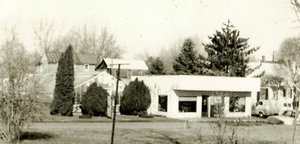 Click On Image To Enlarge
BASHORE'S GREENHOUSE was started by Floyd and Martha Bashore. Eventually it was operated as Summers' Greenhouse and McClure's Greenhouse. Finally it would be operated by Dick and Linda Pray. Sometime later the greenhouse structures were torn down but the location of the customer entrance was replaced by a new building. Eventually this new building became the home of THE TIMES of Port Royal.
| | |
| --- | --- |
| | Contributed by rkohler3 on 3/1/13 - Image Year: 1955 |
| | Contributed by rkohler3 on 3/13/13 - Image Year: 1949 |
| | Contributed by rkohler3 on 3/14/13 - Image Year: 1953 |
| | Contributed by rkohler3 on 10/23/19 - Image Year: 1953 |
| | Contributed by rkohler3 on 2/28/13 - Image Year: 1957 |
| | Contributed by rkohler3 on 12/29/10 - Image Year: 1962 |
| | Contributed by rkohler3 on 10/19/19 - Image Year: 1977 |
| | Contributed by ray on 10/19/19 - Image Year: 1985 |
| | Contributed by rkohler3 on 10/19/19 - Image Year: 1990 |