Harry "Bud" FULTON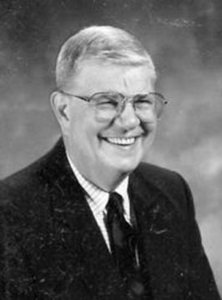 Click On Image To Enlarge
OBITUARY for HARRY G. 'BUD' FULTON

PORT ROYAL: Harry G. 'Bud' Fulton, 73, of Mountain Road, Port Royal went home to be with his Lord and Savior on Sunday, March 1, 2009, at his home.

Born May 11, 1935 in Lewistown, he is the son of the late William Ross and Helen Irene (Miller) Fulton. His wife of 51 years, Belva (Naylor) Fulton, whom he married June 15, 1957, survives.

Also surviving are two children, Terri Jo Fulton-Smith and husband, Roger, of Port Royal and William C. Fulton and wife, Janette, of Mt. Holly Springs; three sisters, Suzanne McNeal and husband, John, of Port Royal, Phyllis M. Ranck and husband, Robert, of Mifflintown, and Judith L. Mowry and husband, James, of Lebanon; and four grandchildren, Courtney and Thaddeus Smith and Tyler and Julia Fulton.

He was a graduate of Lewistown High School, Shippensburg University, Penn State University, and Wharton School at the University of Pennsylvania in Philadelphia. He received his Masters Plus in social science and began teaching social studies at Juniata Joint High School in 1962. He then served as principal of Juniata High School for 27 years, retiring in 1996. He was proud to play on, coach, serve as principal for, and be the parent of a player on undefeated high school football teams.

He was a member of the Port Royal Presbyterian Church, the American Rifle Association, Trout Unlimited, several honorary fraternities based upon his GPA at Shippensburg, the Retired Teachers Association, and the Retired Public School Administrators.

He enjoyed painting, woodworking, and fishing, especially teaching his grandchildren how to fly fish. He was an Orvis endorsed fly fishing guide for Spring Ridge Club on Penns Creek, the Little Juniata and Spruce Creek.

A celebration of life service will be held at 10:30 a.m. Thursday, March 5 at the Port Royal Presbyterian Church, 404 Main Street, Port Royal with the Rev. Crystal M. Lyde officiating. Interment will be in the Old Church Hill Cemetery, Port Royal.

There will be a viewing Wednesday from 6 to 8 p.m. at the church and on Thursday from 9:30 until the time of the services at the church.