John "Rock" RICE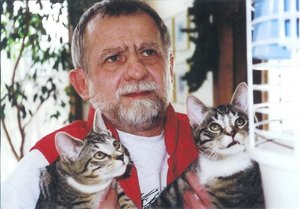 Click On Image To Enlarge
John "Rock" Rice was a son of George Guy and Marian (Taylor) Rice. He was born November 10, 1943 and died January 16, 2000.

OBITUARY FOR JOHN M. "ROCK" RICE

John M. "Rock" Rice, 56, of Port Royal RR1, died at 7:40 p.m. Sunday, January 16, 2000, at Ohesson Manor Nursing Home. Born November 10, 1943, in Lewistown, he was a son of the late George Guy and Marian [Taylor] Rice.

He is survived by a sister, Mrs. Byron [Marcia] Gray, Port Royal.

He was a 1961 graduate of Tuscarora Valley High School, Port Royal, and a graduate of Williamsport Technical School.

He was a U.S. Air Force veteran of the Vietnam War.

He was employed by the Pennsylvania Department of Environmental Protection, Harrisburg, as a printer.

He was a member of Port Royal Lutheran Church.

Memorial services were held Thursday at Rex Funeral Home, Port Royal, with, Rev. Richard H. Burchfield officiating. Interment was at the convenience of the family in Old Church Hill Cemetery, Port Royal.

Memorial contributions may be made to the charity of one's choice.