Jessie Wise RITZMAN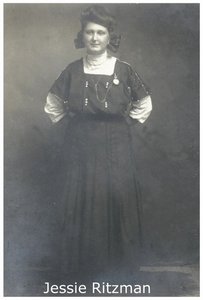 Click On Image To Enlarge
Jessie Wise RITZMAN
(Daughter of William Percival and Carrie Alice (Wise) Ritzman)
(2 May 1891 - 19 Apr 1985)

OBITUARY:

JESSIE W. RITZMAN, 94, of Port Royal RD2, died at 8:20 a.m. Friday, April 19 [1985] at the Locust Grove Retirement Village, Mifflin, Star Route.

She was born March 2, 1891 in Turbett Township.

She was preceded in death by her parents: William P. and Carrie A. Wise Ritzman.

She also was preceded in death by a brother: Rev. Elmer L. Ritzman.

Two brothers survive: J. Lloyd Ritzman, Port Royal RD2 and W. Book Ritzman, Port Royal RD1.

She was a member of the Port Royal United Methodist Church.

Services were held at 11 a.m. Monday at the Rex Funeral Home, Port Royal, with Rev. John E. Halderman. Rev. Sharonn D. Halderman and Rev. Kenneth E. Hepner officiating.

Interment was in the New Church Hill Cemetery, Port Royal.
| | |
| --- | --- |
| | Contributed by rkohler3 on 8/17/20 - Image Year: 1907 |
| | Contributed by garthe on 9/19/09 - Image Year: 1893 |
| | Contributed by jglennel on 10/6/09 - Image Year: 1981 |