Donald "Soup" FIKE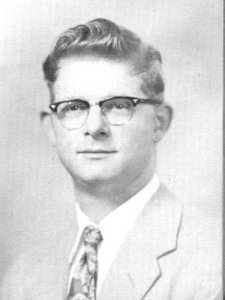 Click On Image To Enlarge
Donald Fike was the son of Park and Erma Harris Fike. He was born November 15, 1937 and died August 19, 2005. He married Judith Gilliland and they had three children, Tammy, Karen and Troy.


OBITUARY for DOALD "SOUP" "RED" FIKE

Donald E. "Soup" "Red" Fike, 67 PO Box 94, Port Royal, died Friday August 19, 2005 at Lewistown Hospital.

Born November 15, 1937 in Thompsontown, he was a son of the late Park L. Fike and Erma G. (Harris) Fike Garrett.

His wife, Judy L. (Gilliland) Fike, survives.

Also surviving are: two daughters, Mrs. Walter (Tammy Jo) Rex of Port Royal, Karen Ann Fike of Thompsontown; a son Troy Alan Fike and wife Dana of East Waterford; six grandchildren, Darin, Jared and Amanda Rex and Elias, Kelsey and Kailey Fike.

Being the last of his immediate family he was preceded in death by two brothers, William Fike and Richard Fike; and a sister, M. Darlene Warner; and a stepfather, Palmer C. Garrett.

He was a 1957 graduate of Tuscarora Valley High School, Port Royal.

He had served in the PA National Guard from 1960 to 1966.

Mr. Fike was the former owner and operator of Fike's Tire Center, Market Street, Port Royal for 20 years. Earlier he had worked for Lewistown Tire Service, South Main Street., Lewistown for 15 years.

Services were held Monday August 22 at Rex Funeral Home with Pastor Michael S. Bailey, Pastor Ron A. Neff and grandson Darin L. Rex officiating. Interment was in New Church Hill Cemetery, Port Royal.

Memorial donations may be made to the Port Royal Ambulance Service PO Box 265, Port Royal, PA 17082; or to Grace Covenant Church, 205 Washington Ave., Lewistown, PA 17044.
| | |
| --- | --- |
| | Contributed by rkohler3 on 9/24/12 - Image Year: 1951 |
| | Contributed by rkohler3 on 3/21/10 - Image Year: 1957 |