Railroad - Railroad Street Crossings
Milford St.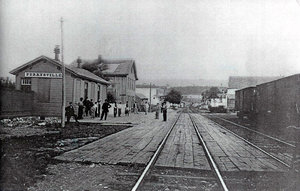 Click On Image To Enlarge
From the time the Pennsylvania Railroad tracks were laid through Perrysville (Port Royal) until the Railroad Bridge was opened in 1910, the primary point for crossing the tracks was at the Milford Street Crossing. Traffic going either east toward First (Water) Street and the Juniata River Bridge or west from those same locations, traversed the tracks at Milford Street. This traffic would await a signal from the crossing guard and then proceed when the clear signal was given.

The Milford Street Crossing was closed after the Railroad bridge was opened. At the time of the closing, Milford Street was the northern boundary of the town and everything north of the street was considered in Milford Township. (The Sanborn Fire Insurance Maps refer to this street as North Street rather than Milford Street.) Today the area north of the Street is part of the Borough of Port Royal.

At the time of the closing of the crossing the following appeared in the Juniata Tribune - 16 Feb 1911:

"A rule was granted on the Supervisors of Roads of Milford Twp. to show cause why Milford Street, on the north line of Port Royal Borough, should not be vacated and closed to public traffic travel where it crosses the Penna. RR, an overhead bridge having been built at Market St."
| | |
| --- | --- |
| | Contributed by rkohler3 on 2/13/13 - Image Year: 1889 |
| | Contributed by rkohler3 on 8/18/11 - Image Year: 1904 |
| | Contributed by rkohler3 on 11/30/09 - Image Year: 1910 |
| | Contributed by rkohler3 on 11/30/09 - Image Year: 1910 |
| | Contributed by rkohler3 on 11/30/09 - Image Year: 1910 |
| | Contributed by ray on 3/2/13 - Image Year: 1939 |
| | Contributed by rkohler3 on 3/2/13 - Image Year: 1939 |
| | Contributed by rkohler3 on 12/2/09 - Image Year: 1904 |