Robert McWilliams "Bob" RICE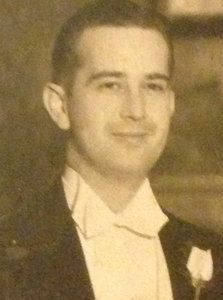 Click On Image To Enlarge
Robert McWilliams Rice was the son of Silas A. and Annie Elizabeth (McWilliams) Rice. He was born September 18, 1909 and died May 11, 2000. He graduated from Port Royal High School in the Class of 1928. He was married to Helen Katharine Meloy.

OBITUARY for ROBERT M. RICE

Robert M. Rice 90, of Wilmington, DE, died Thursday, May 11, 2000 at Forward Manor Senior Living Community, Wilmington, DE.

Born in Burnham, he was the daughter [son] of the late Annie (McWilliams) and Silas A. Rice.

His wife of 62 years, Helen K. Rice of Wilmington, DE, survives. Also surviving are: two daughters, Gwendolyn R., wife of Ralph E. Fuller of Wilmington, DE, Rev. M. Katharine Rice of Shrewsbury, PA., and two grandsons.

Preceding him in death was a sister, Helen C. Rice.

After graduating in 1932 from Philadelphia College of Pharmacy and Science, he was employed by Walgreens for four years. Then, in 1936, began working for Parke-Davis Inc. as a medical service representative for 37 years.

In addition to being a 50-year member and past member of Abraham C. Treichler Lodge No. 682, F&AM, Mr. Rice was a member of the Lancaster Lodge of Perfection and the Harrisburg Consistory. He was also a member of the Zembo Shrine, Lancaster Shrine Club and Royal Order of Jesters, Lodge No. 116, in Harrisburg.

Mr. Rice was also a 50-year member and past president of the Elizabethtown Lions Club and a former Elizabethtown Area School Board member. He was also instrumental in establishing the Music Foundation of Elizabethtown as well as instituting the blood bank in the Elizabethtown area of which he was a past president.

He was a member of Christ Evangelical Lutheran Church in Elizabethtown, where he was a former member of the church council.

Services will be held Thursday, May 18, 2 pm at Christ Lutheran Church, Elizabethtown. Burial will be May 19, 11 am at Old Church Hill Cemetery, Port Royal.

Memorial contributions may be made to Christ Evangelical Lutheran Church, 125 East High Street, Elizabethtown, PA 17022 or to American Diabetes Association.
| | |
| --- | --- |
| | Contributed by rkohler3 on 11/8/09 - Image Year: 1928 |
| | Contributed by ray on 10/20/16 - Image Year: 1937 |
| | Contributed by rkohler3 on 1/20/17 - Image Year: 1932 |