Helen Katherine (MELOY) RICE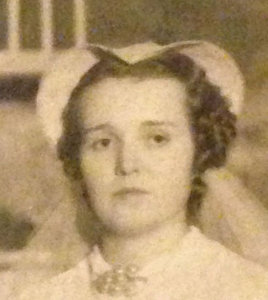 Click On Image To Enlarge
Helen Katharine Meloy was the daughter of Charles Leonard and Margaret M. (Moyer) Meloy. She was born November 26, 1909 and died October 8, 2000. She graduated from Port Royal High School in the Class of 1928. She was married to Robert McWilliams Rice.

OBITUARY for HELEN KATHARINE MELOY RICE

HELEN K. RICE, 90, of Wilmington, DE, died Sunday, October 8, 2000 at Forward Manor Senior Living Community, Wilmington, DE.

She was born in Port Royal, the daughter of the late Maggie (Moyer) and Charles Leonard Meloy.

Her husband, Robert M. Rice, died in 2000.

Surviving are: two daughters, Gwendolyn R., wife of Ralph E. Fuller of Wilmington, DE, and Rev. M. Katharine Rice of Shrewsbury; and two grandsons, Karl Robert Fuller of Springfield, MA, and Peter Everett Fuller of Wilmington, DE.

In addition to her parents and husband, she was preceded in death by four brothers, Thomas Meloy, Charles Meloy, Evard Meloy and Alton Meloy.

After graduating in 1932 from New England Conservatory of Music, she received a teaching certificate from Pennsylvania State University in 1933. She continued her education at Peabody Conservatory in Baltimore, Chris Johnson Choral School in Chambersburg, and by participating in Fred Waring and Robert Shaw choral workshops.

Prior to moving to Elizabethtown, Mrs. Rice taught both vocal and instrumental music in the Port Royal Schools for five years. She then taught in the Elizabethtown Area School District for 15 years as an elementary vocal music teacher.

She also taught private piano lessons for 20 years and wrote music teaching curriculum

Mrs. Rice also directed community minstrel shows sponsored by the Elizabethtown Lions Club. She also directed the children's choir for 12 years at Christ Church United Church of Christ in Elizabethtown.

Mrs. Rice was a member of Christ Evangelical Lutheran Church in Elizabethtown where she was a former choir member.

She was also a former member of Elizabeth Hughes, Business and Professional Women and Order of Eastern Star, Chapter No. 407, all in Elizabethtown. Services were held Friday, October 13.
| | |
| --- | --- |
| | Contributed by rkohler3 on 11/8/09 - Image Year: 1928 |
| | Contributed by rkohler3 on 10/20/16 - Image Year: 1937 |