Lester Wesley YODER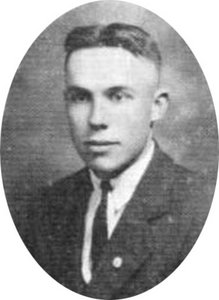 Click On Image To Enlarge
Lester Wesley Yoder was the son of John Evans and Charlotte Beulah (Weimer) Yoder. He was born November 29, 1908 and died October 20, 1998. He graduated from Port Royal High School in the Class of 1929.

LESTER W. YODER OBITUARY

LESTER W. YODER, 89, RR1 Box 983, Port Royal died Tuesday October 20, 1998 at Locust Grove Retirement Village, HC67, Mifflin.

Born November 29, 1908 in Port Royal, he was a son of the late John Evans Yoder and Charlotte Beulah (Weimer) Yoder.

Surviving are two sisters, Mrs. Lena Houser of Oklahoma City, Oklahoma, and Mrs. Vivian Harper of RR1 Port Royal.

Preceding him in death with five brothers, Carl Yoder, Graydon Yoder, Lloyd Yoder, Raymond Yoder and Leroy Yoder.

He was a retired self-employed mechanic.

Mr. Yoder was a member of Matamoras Methodist Church, RR1, Port Royal, PA.

A service was held Saturday, October 24 at Rex Funeral Home, Port Royal, with the Rev. Ron Shaupe officiating. Interment was in New Church Hill Cemetery, Port Royal.